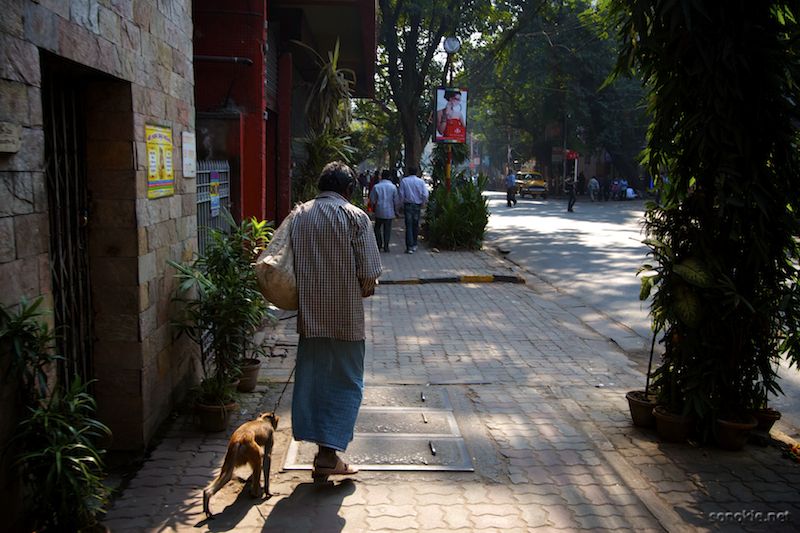 monkey man
I think I saw one dog on a leash during the whole month we were in India and I also saw exactly one monkey on a leash too. I snapped this photo, then we quickly headed over to the other side of the street so the monkey's owner wouldn't see us. If he had seen us, I'm sure he would have started the monkey dancing or whatever it was trained to do and then demanded money. I'm annoyed at people doing little things and demanding money from me because the language barrier makes it effectively impossible to refuse, and I'm a Canadian so I hate to be rude. The fact that my money would be helping keep a monkey captive made it worse.
It's different for dogs though; they get lonely without people and they don't seem to know how to take care of themselves. I didn't want to mention it when I posted the photo of the cute puppies last week, but adult dogs in India sleep on the street, drink out of dirty puddles, have mangy fur, scratch at their fleas and often have injured paws and sometimes wounds. It's really pitiful to see a skinny dog hopping along on three paws. Also, the adult dogs are often a little wild and potentially aggressive. They would be much better off with someone to care for them.
There are organizations such as the Marwar Trust in Jodhpur to help stray dogs. There's also Veterinarians Without Borders which has projects worldwide to help deal with issues like stray dogs, rabies and animal husbandry.